October 22, 2021
3 min read

Source/Disclosures

Published by:
Source:
Bakris GL. Opening Remarks & FDA Update and Late Breaking Trials. Presented at: Cardiometabolic Health Congress; Oct. 14-17, 2021; National Harbor, Md. (hybrid meeting).
Disclosures:
Bakris is a consultant for Alnylam, AstraZeneca, Bayer, Horizon, Ionis, Merck, Novo Nordisk and Vifor.
We were unable to process your request. Please try again later. If you continue to have this issue please contact customerservice@slackinc.com.
Results from the FIDELIO-DKD and FIGARO-DKD trials of finerenone as well as the upcoming FIDELITY-DKD analysis may initiate a new era in treatment of cardio-renal disease, according to a speaker at the Cardiometabolic Health Congress.
During his presentation, George L. Bakris, MD, professor of medicine and director of the American Heart Association-accredited Comprehensive Hypertension Center at the University of Chicago Medicine and senior author of the FIDELIO study, discussed these trials and what their findings may indicate for the future treatment of chronic kidney disease and diabetes.
"In the last 20 years, there hasn't been anything huge in kidney disease. We had the ACEs and the [angiotensin receptor blockers], and then we had explosions starting in 2018 and 2019 with the SGLT2 inhibitors," Bakris said during the presentation. "Now we have a new class of agents, the nonsteroidal [mineralocorticoid receptors]. We're trying to achieve the level of the heart failure cardiologists, where we can have pillars of therapy, and we're slowly getting there."
In July, the FDA approved the mineralocorticoid receptor inhibitor antagonist finerenone (Kerendia, Bayer) for lowering risk for kidney and heart complications in adults with chronic kidney disease associated with type 2 diabetes.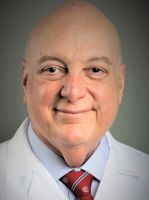 George L. Bakris

"Some [mineralocorticoid receptors] are being developed and have been approved in Japan for hypertension," Bakris said. "KBP-5074 (KBP Biosciences) is being developed here in the U.S. for resistant hypertension, and finerenone is the one with the best kidney data and has almost no blood pressure effects."
The FDA's approval of finerenone was based on data from the FIDELIO-DKD kidney outcomes trial. Bakris also cited data from the FIGARO-DKD trial that evaluated CV outcomes among patients with chronic kidney disease and diabetes, and the FIDELITY-DKD pooled analysis of both trials, currently under review.
In the FIDELIO-DKD trial, researchers randomly assigned 5,734 adults with chronic kidney disease and type 2 diabetes who were already prescribed maximum tolerated guideline-directed therapy to oral finerenone or placebo. The primary outcome was a composite of time to kidney failure, sustained estimated glomerular filtration rate (eGFR) decline of 40% or more from baseline or renal death.
As Healio previously reported, participants in the finerenone arm experienced lower risk for the composite primary endpoint during a period of at least 4 weeks and an 18% lower risk for renal death during a median of 2.6 years of follow-up. Patients on finerenone also experienced a 31% reduction in albuminuria.
The FIGARO-DKD CV outcomes trial enrolled 7,400 participants with chronic kidney disease and diabetes already prescribed maximum tolerated therapy. Participants were randomly assigned oral finerenone 10 mg or 20 mg once daily or placebo.
As Healio previously reported, finerenone reduced the risk for the composite endpoint of time to first occurrence of CV death or nonfatal CV events, defined as MI, stroke or hospitalization for HF.
The FIDELITY-DKD pooled analysis combined data from FIDELIO-DKD and FIGARO-DKD trials and included patients across a broad spectrum of eGFR and categories of chronic kidney disease. The final results are currently undergoing peer review and are slated to be published in the European Heart Journal, according to Bakris.
The pooled analysis indicated that finerenone significantly reduced risk for the CV composite outcome of time to CV death, nonfatal MI, nonfatal stroke or HF hospitalization by 14% (P = .0018), compared with placebo, Bakris said.
Moreover, finerenone also lowered risk for the primary composite kidney outcome of time to kidney failure, sustained decrease in eGFR of 57% or more or renal death (P = .0002). The number needed to treat after 3 years was 60, Bakris said.
"These analyses and trials show that this drug is a great complement to ACE inhibitors and [angiotensin receptor blockers]," Bakris said. "Arguably, it's also going to be a great complement if we use all three: SGLT2s, ACE inhibitors and [angiotensin receptor blockers]. This is in terms of not only slowing kidney disease progression, but reducing cardiovascular risk.
"I will predict the next 5 to 7 years are going to be a very exciting time in the cardio-renal area, overlapping with diabetes," Bakris said.
Reference: